Natural Dye Artist & Slow Fashion Advocate
Artist Statement
"Through my work, the intention is to spread awareness towards slow fashion alternatives and (re)connectedness to nature, as a means to alter society's reliance on fast fashion.
With nature as my guide, the hope is to tap into the Slow Movement through alternatives to a connected life. Advocating a cultural shift toward slowing down life's pace, thus supporting socially and environmentally conscious living.
The return to harmoniously working with nature rather than against it.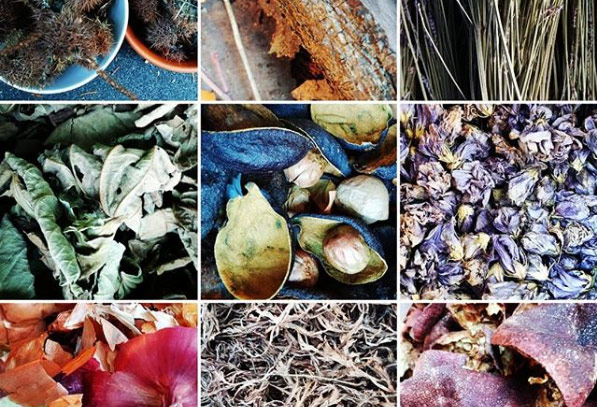 Artist Biography
Daphne Woo is the natural dye artist and slow fashion advocate behind AMACATA. 
Her prior experience includes working as a garment developer bringing concepts into a commercial reality for international sportswear brands, after graduating from KPU in 1995 with a Fashion Design & Technology diploma.
Amid more than 20 years in the apparel industry, Daphne steadily grew weary of contributing to mass consumerism. Thus, in August 2016, she made the leap out of the corporate apparel world.
Under the guidance of Groundswell Community, she craved to do something that would make a more significant contribution in solving a problem rather than feeding into a capitalistic mindset.
She found herself in an opportunity where she could have chosen to do something completely different, but felt compelled with perhaps a personal responsibility to continue staying connected to the industry, but then from a much different angle.  An approach of righting things.  She was not sure how she could turn her back on the problems that continue to emerge from the depths, especially via documentaries such as The True Cost.
Many ideas came to light during her time at Groundswell.  However, she realized her accumulated experience could be of value in addressing the social & environmental impacts of the apparel industry.  Consequently, although AMACATA was born in 2010, it was rekindled in 2017 as a social venture, breathing with new purpose and joining the revolution against fast fashion.
Despite the infinite number of issues that stem from, and revolve around the clothing industry, it can't be all about doom & gloom.  
"In efforts to address the dark side of the complex industry, a balance is needed.  We need to see the beauty of hope when faced with a dark reality."  The emergence of art to carry out this task speaks volumes to Daphne, in strong partnership with (re)connection to nature and reconnecting to oneself.  As David Suzuki once said, "Unless we are willing to encourage our children to reconnect with and appreciate the natural world, we can't expect them to help protect and care for it.
Working With Natural Dyes
Working with natural dyes and materials is therefore the focal point for Daphne via AMACATA. 
In handling the natural materials, Daphne feels best equipped to offer her work as a medium to spark further awareness and conversation.  That conversation can be had with another while observing the luminescence of a naturally dyed textile, but also the conversation can be had with oneself. 
In this way, sharing that (re)connection is an important aspect and for that reason, workshops such as "Harnessing Colour from Nature" are offered.   Adding to that connection, workshops provide community building. 
Although only recently grounding herself as an artist, transitioning away from "product", Daphne is no newcomer to natural dyes as she was first introduced to it in 1991 at Capilano University College.  This was through textile art courses with instructor and now dear friend & mentor, Yvonne Wakabayashi.  It was there that she was also introduced to the Japanese craft of Shibori. 
In fact, Daphne's final collection three years later at KPU was naturally dyed, shibori processed lingerie and loungewear, awarding her an award for Most Innovative Use of Materials. 
She continues to resonate with other Japanese ethics in regards to art, such as appreciation for nature, the beauty of transience, and the quality of evolving beautiful things as a result of frugality. 
Such ideals lend to regenerative ways of being and creating. That continues to inspire Daphne, as working with nature provides much grounding. Her identity continues to be shaped by the cumulative experience of having lived in The Netherlands for a decade, returning to her birthland, colonially known as BC, Canada, and explorations of personal ancestry. Through her work, Daphne advocates the return to harmoniously being nature, rather than being against it.
Never forgotten are the wise words from friend, Musqueam elder, and Knowledge Keeper, Shane Pointe: "nə́ c̓aʔmat" (We are One). Spelt phonetically: Nutsamaht. In today's world, it is easy to lose sight of this, but it is with great importance to be reminded over and over again through the power of nature and the significance of ceremony. It is in these ways that Daphne not so much transitions from Product to Art, but more so that Art encourages her towards her authentic self.