Textile Art exclusively of Natural Dyes & Slow Fashion Advocacy by Daphne Woo. 
Located on the shared traditional, ancestral, and stolen lands of the xʷməθkʷəy̓əm (Musqueam), the sel̓íl̓witulh (Tsleil-Waututh), the Sḵwx̱wú7mesh (Squamish), the S'ólh (Stó:lō), the Stz'uminus, the Qayqayt, and the Kwantlen First Nations.

Daphne is the natural dye artist and slow-fashion advocate behind AMACATA.  Having been a garment developer for years within international sportswear companies, she made a career transition in August 2016.
The social venture mentorship program at Groundswell Community guided her in joining the revolution to address the problems of fast fashion.  
AMACATA was derived from the mirror image of ATACAMA, … reflecting properties of the Desert: … raw, pure, natural landscape. Imagine such a space where you can make room for introspection.
Daphne's handmade pieces have been lovingly created with natural materials. Her textile work incorporates the art of shibori, and dip-dye. Natural dyes include: avocado pits, logwood, quebracho green, madder, cochineal, walnut hulls, pomegranate peels, indigo, just to name a few.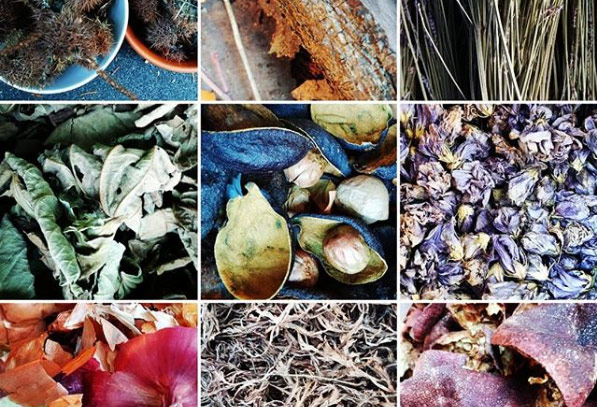 I had the pleasure to learn from Daphne in a natural dye workshop a couple months ago. We had people with all different levels of knowledge in our class and it was great for me personally to see the natural dye process in great detail, watch her doing and explaining the steps while being able to ask her more in depth questions since I wasn't completely new to the topic. Creating something yourself was fun and so exciting to see how different the dyed pieces turned out due to the techniqes and colours used. Daphne prepared great material that we were able use to draw ideas from, lots of samples & techniques were shown and additional tools & books that we could browse through to get inspirations. Overall amazing atmosphere, definitely recommend her class!! 🙂
Daphne's workshops take you to another level of connection with the natural world. I felt like I was doing the motions my ancestors did hundreds of years ago, making beautiful, high quality textile pieces with the most basic (and beautiful!) of natural ingredients. And then of course you get to take home a gorgeous scarf that you made yourself. Priceless. Thank you Daphne for this unique opportunity!
I highly recommend Daphne's workshop for anyone interested in opening their minds to the world of natural plant colour! Daphne has taught me so much more than just about environmentally friendly textile dyeing - her slow, intuitive approach and gentle guidance is perfect for allowing the creative, natural process to do it's work, while enabling a newbie like me to explore my own connection to the process in a non-intimidating way. One of the most memorable take-aways for me was to let go of expectations, which has been such a valuable way to approach my own creative practice, and to live life.